Knoxville, Newton, and being Googled by my own kid.
I'm a little infamous for my unhinged music playlists. It's less about music and more about data organization and my brain's need to group related things. It's not like I ever queue up and listen to my "songs that reference the Works Progress Administration" playlist or my "songs that rhyme pain with John Coltrane" playlist. But I have to put them on a list because maybe there's not many but it's weird that there's a few.
The first year that I knew my husband was an endless debate between us because of my playlist of "songs that take place in real time while actively driving a car" and his insistence that it's pretty common when most of his examples are references to having driven not currently driving. I digress. He and I are much more closely aligned with my "songs that reference a personal injury settlement" playlist.
All of this is to say, I also have hours-long, heavily curated thoughtful road trip playlists that are dependent on the destination, HOWEVER, every road trip playlist contains the same 2 songs usually right off the bat. The first is The Spencer Davis Group's "Gimme Some Lovin'" which you may recognize as the backing track for every montage scene in every racing movie (try me, it's true) and the second is "Closer to Fine" by the Indigo Girls.
Imagine the scream we scrum at the Barbie movie (no spoilers).
(Zach was also there but he's just Ken.)
Seeing Barbie in the theaters on opening night was the kickoff to a three day weekend that we spent in Iowa for the IndyCar doubleheader in Newton plus a regular weekly 410/360/pro sprints race at Knoxville.
We stopped first at the Iowa 80 World's Largest Truckstop in Walcott, Iowa, as we do without fail each time we pass. We have numerous "growth chart" photos that we take in the same places every time we're in Iowa and I don't think dear readers are emotionally prepared for this year's update.
Zach is NOT a short person.
We arrived in Newton in time for Friday's practice session and catching up with dear friends from Michigan with whom we've been able to attend a couple of IndyCar races each year.
The World's Biggest Motorsports fan was in attendance, #ThrilledToBeHere is the hashtag we use on Twitter to show the world how much she enjoys auto racing.
She may not love motorsports but she loves travel and especially a hotel pool, where she can do all the novelty tricks she can't do in her competitive swim team practice, such as mermaid fins.
On Friday night, we went out for dinner at Knoxville's One Eleven Public House, which was great. Trying new-to-me restaurants in Knoxville gives me this weird out-of-body feeling because I basically lived there during the summer for several years, 20 years ago, and so it remains frozen in my mind in a specific way and it's perpetually jarring to experience Knoxville in any new way.
On Saturday morning, we were having breakfast at the hotel when Susan looked at her phone and just started laughing. While the sun blazed through the windows in Knoxville, 30min up the road, the only rain cloud in the entire state of Iowa had settled directly over Iowa Speedway in Newton and caused havoc on morning practice and qualifying.
Not enough havoc to prevent Will Power from qualifying for the pole position in BOTH Saturday and Sunday's race. Ada's presence at an IndyCar track continues to mean good good things for Will Power.
And hilarious additions to our "Will Power Face" photo album.
Another every year Growth Chart tradition is this specific sprint car on display under the grandstands at the Knoxville Raceway. I used to line all the photos up next to each other but it's just too many, so I let the YouTube Shorts Star who lives in our house and is the subject of these photos put together a video for me.
She consents to her video being shared so long as she receives credit and I nudge you to Subscribe to Her Channel.
The race at Knoxville was great and included a Candy Dash for the kids, where they dumped a truckload of candy on the front stretch and let them throw elbows for Nerd Clusters.
My "B****, Please, I'm From Rockford" girly did juuuuust fine.
She also got to show you the Knoxville Raceway sprint cars / Rockford IceHogs hockey crossover event of the century.
(That would be "hey guess what your goalie sucks" that she is chanting, which is what Rockford fans yell when this song is played after every home goal, because we are classy AF.)
Two things to know about my kid right now are that 1.) she desperately desperately wants a dog and she recently learned that our late dog Wrecks was an irresponsible impulse purchase from a box in a corner of a farm supply store, and she can't fathom the irresponsibility of that decision because I am Mom and therefore I've always been a Responsible Adult and 2.) she's reached an age where I'm allowing her a lot more freedom to roam and navigate herself through the world. She's getting to wander a little more than she ever has before, especially when we're in rural Iowa.
Oh, and 3.) she's got jokes. She's got JOKES FOR DAYS.
My kid learning about how Wrecks came into my life is one of many little instances lately where she's learned about my life before she was born or my interests or skills beyond what she sees in my mothering/working/householding daily practices.
This trip to Iowa was the beginning of a bigger reveal for the two of us when somewhere between Knoxville on Saturday night and the second IndyCar race on Sunday afternoon, she showed me her phone and it was a screenshot of a conversation with her that I'd posted to social media.
"Where'd you find that?" I asked. "I googled you," she replied.
"What else did you find?" I asked. "Just some pictures," she said.
After watching Josef Newgarden win his 2nd IndyCar race in as many days, we hung out after the race for the last of four concerts scheduled for the weekend, but the first that we had planned to attend – Ed Sheeran. A pack of 20-something girls filled the empty row behind us and expressed shock at how many racing fans were leaving before Ed came on. You could not buy the concert ticket without the race and vice versa, which made for a fun crowd transition. Ed was solo, took a break after two songs to apply sunscreen, and commented that we were experiencing "proper heat".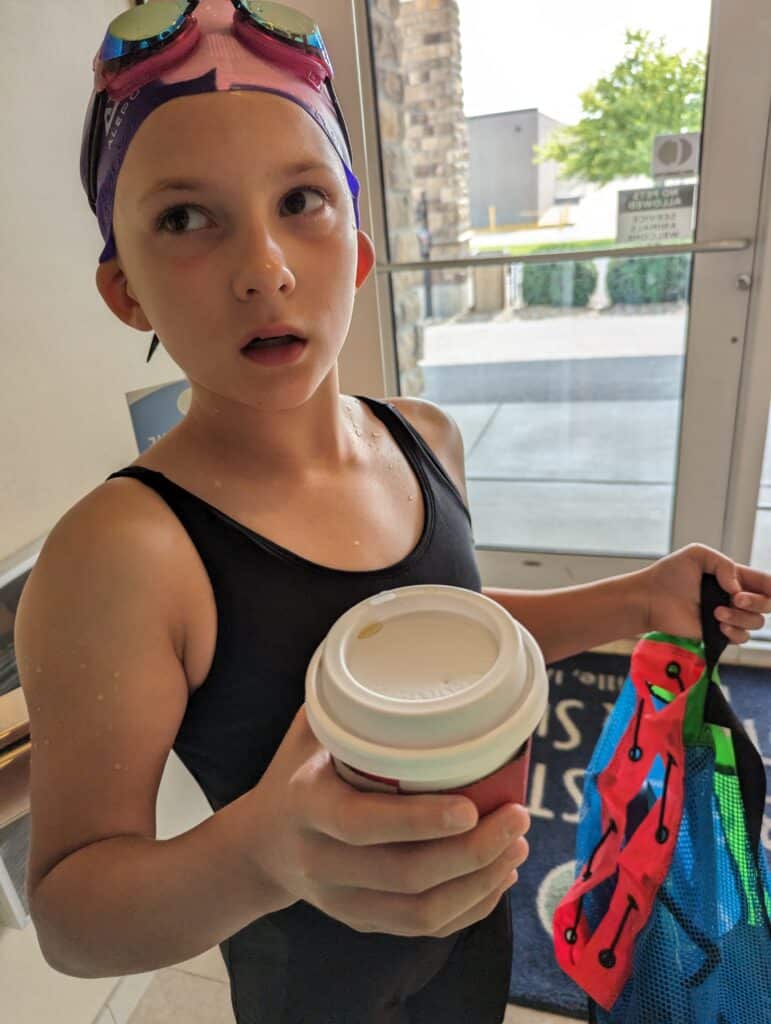 Ada's roaming throughout the weekend included regular trips to the hotel's coffee bar to assemble a hot tea for herself, which gave the impression that she was just wandering around with a coffee in her hands, waving it around when she spoke, using it as a prop to punctuate the important points . . . in other words, looking exactly like I do with my all-day-every-day cuppa.
I snapped this photo because her mannerisms with the cup were so familiar and me-like. I find myself trying to document more and more of those "she's still my mini" moments lately because it used to be 24/7 and now it's less so. I used to say "she likes green peppers and Sufjan Stevens" to illustrate the only ways in which we differ, but as time passes she moves further down that fork in the road that is her identity separate from mine.
It's a real win because that's the ultimate goal of parenting, right? An independent individual? Every day that she expresses a new piece of her identity – her style, her sports, her hobbies, her preferences, recently even her choice in her name – I know that I am closer to launching a person into the world who is capable of surviving without me. I take great pride in my progress to that end. But man, is it a wild ride.
I always think of our diverging identities as being something only I am experiencing as she grows up, because I am the same Mom, I am a constant. I never thought about it being a wild ride for her as well, until shortly after we arrived home, when she was laying on our couch playing on her phone while I was watching a sprint car race on TV, and she bolted upright and shouted "MOM. YOU HAVE A WEBSITE???!!! YOU WRITE STUFF ON THE INTERNET? HOW LONG HAVE YOU HAD A WEBSITE?"
Girl, there's more than one answer to these questions pointing me in a crooked line.