day 3 of our Road America IMSA Great Lakes Extravaganza weekend
big day, feel free to jump ahead, only one section includes a live birth so choose carefully
Off the Rail
Early start with breakfast in Elkhart Lake at a place with a train theme and a line out the door and down the block.
Exactly the face you'd make too if your mom was about to drag you around to see more cars and motorcycles than you even knew existed but first you had to wait in a line for eggs named after transportation infrastructure.
Loved this place, will return, would wait in 3x the line.
Road America
Ada has been asking us for a year if we could take a full lap on the shuttle that runs around to various parts of the 4+ mile track and today we finally did it. We usually hike around the track and concentrate on a specific section but she wanted the zippy full tour. We actually took 2 shuttle laps because after our first, she wanted to circle back to jump off at The Beach, which is the viewing section right after The Carousel where somebody planted some fake palm trees in a sand trap and parked a taco truck.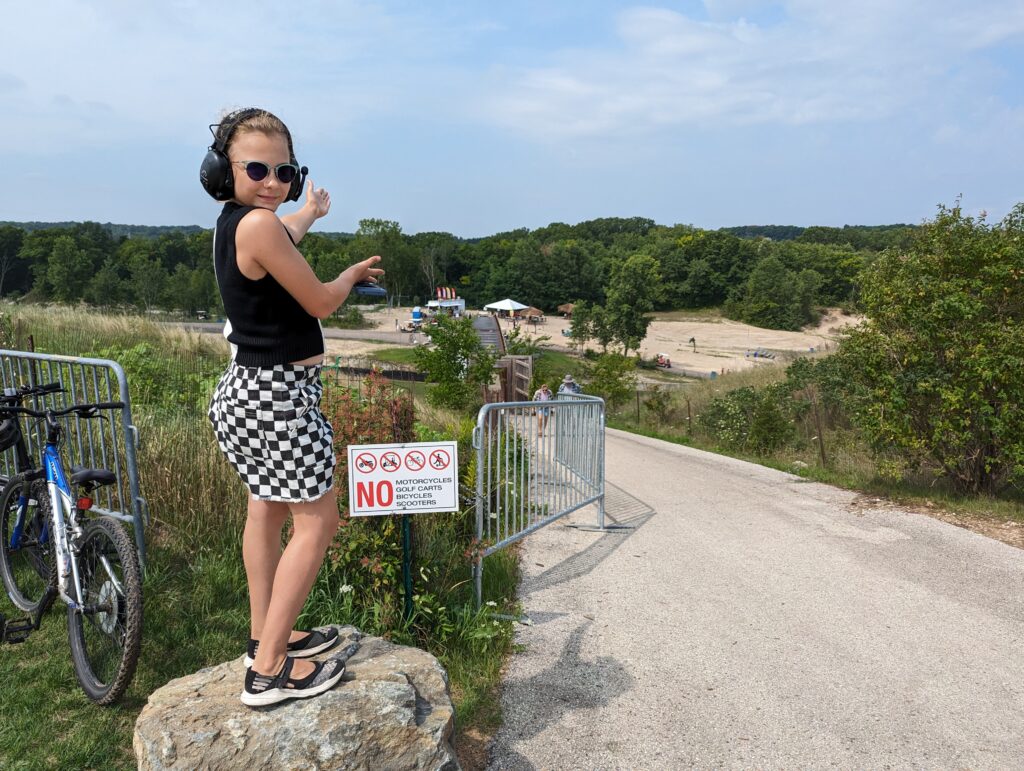 We watched Mazdas and Lamborghinis and a bit of the Michelin Challenge Practice today. We did not stick around for qualifying because we don't really show up on time for qualifying at dirt tracks either. We headed out for a couple of museum stops.
Throttlestop Motorcycle Museum
Throttlestop in Elkhart Lake, WI is where I met the 1975 Norton John Player Special, a "never laid down, motor never opened up, no stories motorcycle".
I dunno man, sounds like that's a story in and of itself. "No stories here," is exactly what a motorcycle with a lot of secrets would say.
Somebody who knows anything about motorcycles would have probably taken pictures of different ones, but here are some that caught my eye.
There were also cars. Some of the descriptions of cars seemed more like sales bullet points than museum bullet points and I'm fine with that. Airplane museums never make me daydream about where I could park a Blackbird, but car museums sometimes make me think "yeah, no, yeah, I definitely remember how to drive stick".
When we reached the end of the museum, a guy appeared out of nowhere with a set of keys in his hands and said "I've got some more cars in this other building" and then we walked into what felt like . . . . storage for cars probably owned by real people. Again, just the very best blurry museum/some guy's garage line.
Farm Wisconsin Discovery Center
We debated stopping at the Farm Wisconsin Discovery Center on the way back into Manitowoc because I had only super quickly scanned the website and thought it might be a little young for Ada + she's been to several farm-focused learning attractions/dinners with Jim already. But Ada insisted we stop, probably out of fear that whatever the other choice would be was going to involve looking at cars.
So we walked in and were given immediate instructions on where to find the cow giving birth in the Land 'O Lakes Birthing Auditorium.
We were told it'd probably be a few hours wait but when we walked in, it was definitely in progress. Ada ran back out to the front desk and said "it's happening!" to which the cow midwife responded "ope, they always do this when I'm at lunch."
Rest assured that I clipped the actual birth out of this video, it's safe to click. It's safe for everybody but Jim, who will surely be disappointed in Ada's corn harvesting yield.
If you need that graphic detail, here's a photo of Zach trying to get out of the submarine the day before, preemptively reenacting the birth. Preenacting.
It's like seeing a cow in real life.
Zach also got himself into a quilt raffle. "I'm not required to be present to win," he explained, "but I am allowed to be present."
Rahr-West Museum
We'd technically been here before but we didn't realize it because we didn't come inside. Last October we parked on the street here so I could play frogger with traffic in this intersection to find the brass ring in the pavement that marks the spot where a piece of the Sputnik IV crashed in 1962.
Just as "huh, so that's it?" from the second story window honestly.
The Rahr-West is phenomenal. The permanent collection is really spectacular and we got to see two exhibits – Really Big Prints, which were block prints larger than I knew were possible, and a huge room of them, and Art Against the Odds: Wisconsin Prison Art. We bought the Art Against the Odds book and look forward to learning more about the project.
Ryan's on York
I had to stop here again probably because they called it Forbidden Naan. You can't forbid me. I do what I want. I'll show you.
It's only 2.5 hours from my house and they can't keep me away.
Strand Adventures
(again)
Here's Ada's edit on the second trip to Strand.
Please like and subscribe or she will not help me figure out how to use CapCut, thank you.